A Circular Pioneer
Circular business models showcase how organizations can future-proof their business while simultaneously delivering economic value by supporting environmental and social outcomes. In that sense, circularity is nothing new for HP, which first began working on becoming circular in 1991.
The successful transition to a circular economy requires commitment and attention: from design to product life extension and end of life management. For the tech industry, which is often accused of planned obsolescence, circularity would seemingly be counter-productive to steady profits through constant product turn-over.
HP has taken an opposite tact with a commitment to take their entire business circular. In a first-of-its-kind initiative HP conducted lifecycle assessments to prove that Product as Service is a sustainable lower impact way to access technology needs.
For business customers HP's Device-as-a-Service for personal computers and Managed Print Services offer organizations that want to decarbonize and reduce sustainability impacts the ability to do so by embracing circular business models and procurement.
Instead of having to purchase and manage hardware, and maintain depreciating assets that must also be managed at end of first life these service-based models simplify asset management by leaving total lifecycle responsibility with the vendor.
This incents higher quality and more repairable products; facilitates second or even third lives of technology through Product Life Extension; and stimulates better design for Resource Recovery at end of life.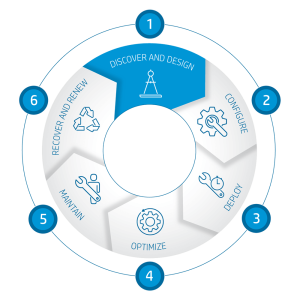 Innovation and collaboration drives sustainability, and those are the opportunities we look for, says Frances Edmonds, Head of Sustainable Impact, HP. We aim to delight our customers by helping them reduce their impacts while we take care of design for circularity, recycling, and even social impact.

For organizations that want to support and advance the circular economy utilizing Product As Service sends the right signal to the marketplace that circularity is the future. Our customers are increasingly voting with their feet – in 2019 more than $1.6 billion in sales was related to our leadership in sustainability, and today our home printing subscription service: Instant Ink, has close to 9 million subscribers worldwide.
In another example of Product as Service HP Instant Ink allows consumers to pay per printed page instead of purchasing ink cartridges. The printer automatically re-orders ink cartridges when needed, and the delivery box includes a prepaid shipping envelope for cartridge take-back and recovery.
Utilizing the Circular Supplies business model, 82 percent of Original HP ink cartridges comprise at least 45 percent post-consumer plastic content; and 100 percent of Original HP toner cartridges contain 5-45 percent post-consumer or post-industrial recycled plastic content.
While circular business models have long been embedded into HP products, it is now taking a proactive approach to increase circularity along the company's entire value chain.
In February 2021 HP unveiled HP Amplify™ Impact, an industry-first program aimed at driving sustainability excellence worldwide. Partners work directly with HP to assess their own practices while tapping into the company's sustainability expertise and resources. The mission is to drive accountability throughout the IT industry across three pillars:

Planet: Drive toward a net-zero carbon, fully regenerative circular economy while creating the industry's most sustainable portfolio of technology, services, and solutions.
People: Respecting human rights, enabling people across the value chain to thrive and cultivating a diverse, equitable, and inclusive culture through initiatives such as the HP Racial Equality and Social Justice Task Force.
Community: Empower communities through the power of technology. Help eliminate the digital divide that prevents too many from accessing the education, jobs, and healthcare needed to thrive.
Collaboration is key at the end of the day, and we define ourselves not by what we make, but what we make possible. Our support for Recycling Council of Ontario and Circular Innovation Council aligns with our values, taking action on long-standing issues like waste elimination and driving future solutions through circular procurement to unlock Canada's circular economy, Frances concludes.