Trialling an Innovative Pilot Through Smart Cities
Circular Innovation Council is piloting an expanded regional service system for the industrial, commercial, and institutional (IC&I) sector, under a co-operative financial model, that mimics the residential model to accelerate circularity and improve the collection of edible food for rescue, and source separated organics and packaged foods for de-packaging and/or composting.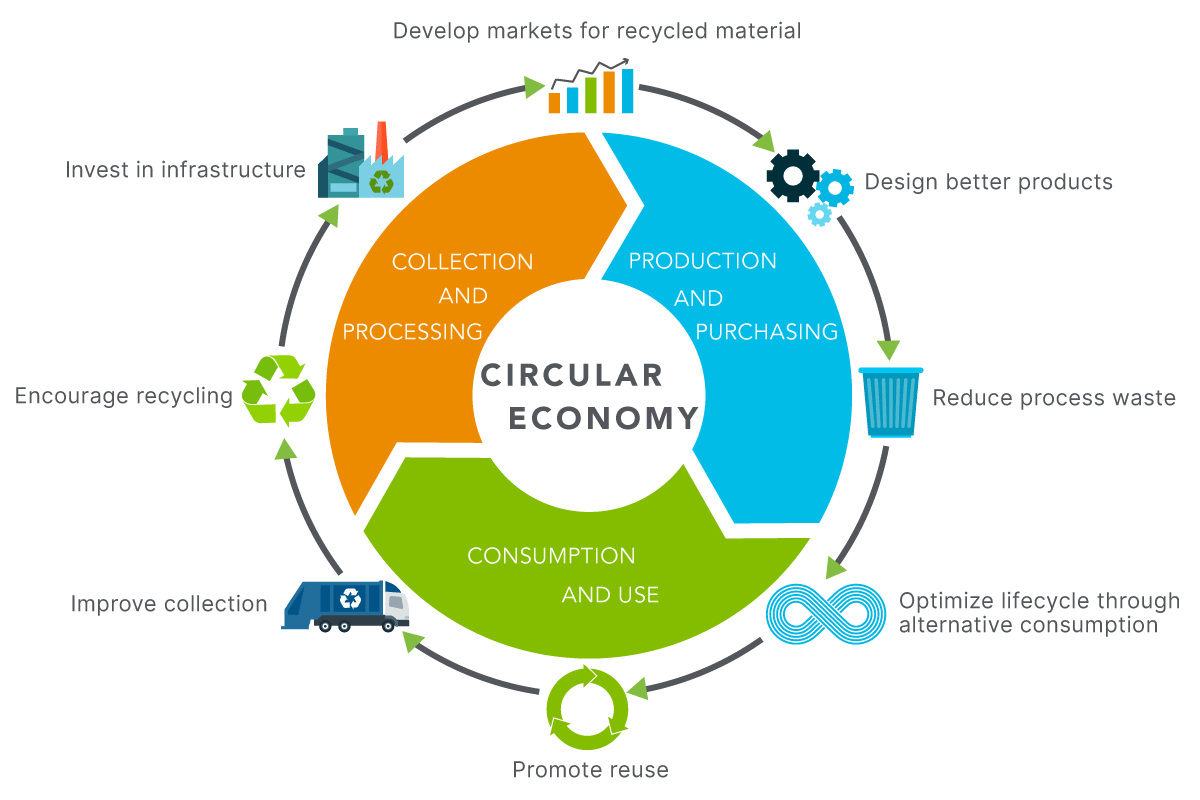 It is estimated that individuals and households in Canada waste more than $10 billion worth of food annually. When taking into consideration manufacturing and processing that figure rises to $21 billion. Expanding the value chain to include infrastructure, (e.g., transport, restaurants, retailers) estimates peg the value of waste food at more than $49 billion annually.
While the economic costs of food waste are staggering, we must also consider the environmental costs. More than 30 percent of Ontario's waste stream is composed of food and organic waste. When organic material is sent to landfill to decompose it releases methane into the atmosphere, which is a greenhouse gas 23 times more potent than carbon dioxide, and is the single largest waste stream found in landfills.
As it relates to the source of material, municipalities across Ontario, which generate 55 percent of food and organic waste, have long-established comprehensive curbside organics programs that leverage collection efficiencies from door-to-door services and in-home source separation built on continuous public education and outreach.
Conversely, IC&I / non-residential generators (e.g., retailers, stores, hospitals, food courts) have a different collection process where organic materials are managed independently on a facility-by-facility basis, which eliminates opportunities for collection efficiencies, economies of scale or standardized services of the residential sector. As a result, dedicated organics services for the non-residential sector can be cost prohibitive. In addition, of the 45 percent of organic waste generated by non-residential sources, 75 percent of it is lost to disposal.
Circular Innovation Council will facilitate collaboration within the IC&I sector in a pre-competitive co-operative service and financial model that tests the viability of a shared collection and consolidation system at a convenient and centrally located site(s) to optimize organics recycling, and improve the management and recovery of food and food waste.
The goal is to create a collection and transport system to access consolidation and processing sites to improve efficiencies and performance, while reducing costs and environmental impacts.
The pilot will also offer an opportunity to scale the model, provide it as permanent, and replicate in other jurisdictions.
As it stands disposal continues to be the cheapest and efficient option for the non-residential sector, which eliminates any incentive for innovation or alternative options. What we hope to accomplish is an entirely unique economic model that competes with disposal and offers incentive for co-op members, creates an environmental resource through composting, and advances social benefit through food rescue.

Jo-Anne St.Godard
Executive Director
Circular Innovation Council
Innovation is the heart of circularity and we welcome the opportunity to host this circular pilot in Guelph-Wellington. By reducing food waste in the non-residential sector through organics recycling and food rescue, and strengthening collaboration across the value chain, we have the ability to build a strong and enduring circular food economy that can potentially be shared with other communities right across Canada.

Barbara Swartzentruber
Executive Director
Smart Cities Office
The pilot will test a co-operative model where costs are shared by users/generators through a buying consortium. By maximizing participation the service will be optimized. Key elements of the model:
Shared services commensurate with size and use of each of the participants.
Scaled structure to meet individual needs of members.
Flexibility to accommodate the diversity and unique needs of members.
Ability to satisfy collective goals.
Economic
Costs avoided with consolidated collection and transport.
Disposal costs avoided (organics and packaging).
Environmental
Greenhouse gas emission reduction through optimized collection service.

Organic materials collected and diverted from disposal.

Edible food collected and delivered.

Packaging materials collected and recycled.
Social
Improved food security through donations and recovered meals.

Quantify new employment opportunities due to increased diversion activities.
Ongoing: Confirm site location and scope of work; partner recruitment.
Q3 2021: Launch and implementation
Q4 2021: Interim Report
Q1 2022: Pilot Close
Q2 2022: Final Report
We seek stakeholders in private, public, and not-for-profit sectors that support the advancement of the circular economy, and are prepared to embrace innovation and collaboration to support economic, environmental, and social outcomes.
If you share our concern of the impacts of food loss and waste, and recognize the opportunity to improve performance in the non-residential sector, we would welcome your contribution to this innovative pilot.
Benefits to joining:
Enable solutions to long-standing barriers to food waste and loss.
Participate in the advisory committee that guides implementation and operations, and gain knowledge through results.
Collaborate with like-minded forward-thinking organizations and individuals at the front-end of change.
Discover new processes through collaborative research, and help bring them to market through commercialization.
Contribute to social, environmental, and economic gains through food waste reduction and food redistribution activities.
Organizational profile on all project collateral including project website, reports, and promotional materials.
Jo-Anne St.Godard
Executive Director
Circular Innovation Council
[email protected]
416.657.2797, ext.3

Andrew Telfer
Partnership and Development Lead
Smart Cities Office (Guelph-Wellington)
[email protected]
905.875.7393