Waste Reduction Week in Canada
Our year-round program that supports principles and practices of the circular economy, resource efficiency, and waste reduction that culminates as a week-long celebration every third week of October. Our purpose is to educate, promote, and celebrate individual and collective environmental efforts and achievements while encouraging new and innovative ideas.
Theme Days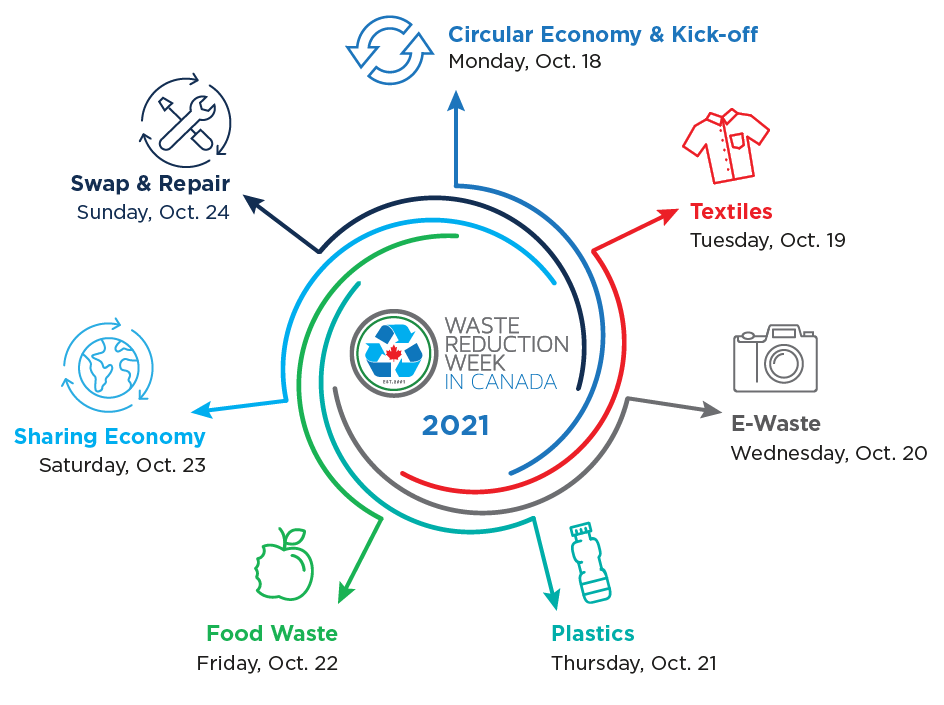 Waste Reduction Week in Canada programming highlights our transition to a circular economy by focusing the conversation around seven themes.
Our theme days focus the discussion, promote achievements, and celebrate advancements in each area during the campaign week and year-round.
History
The program started in the mid-1980s when a number of recycling councils and environmental organizations began holding provincial events. In 2001, the national Waste Reduction Week program was formalized by Recycling Council of Ontario, which now as Circular Innovation Council, supports the national movement in partnership with a coalition of not-for-profit environmental groups and governments from provincial and territorial jurisdictions across Canada. Provincial and territorial partners support the campaign through local promotion and events.
Join Us
We celebrate Waste Reduction Week in Canada every third week in October and ask Canadians to join us in recognizing the achievements we have made in advancing circular economies, resource efficiency, and waste reduction. Although the third week in October is our big celebration, the Waste Reduction Week in Canada program is active all year, promoting organizations, governments, and individuals who are making a difference. Given the growth in interest of the circular economy, waste reduction, and the campaign, we launched Waste Reduction Weekly to formally engage our audience on the issues of the program year-round and create additional take-action opportunities. 
Waste Reduction Weekly, with its unique branding, takes the form of formalized communication efforts including:
Social media posts for champion profiles, new resources, and sharing take-action opportunities.
Articles on advancements related to our seven themes.
Ongoing promotion of events and activities.
PARTNER WITH US
Partners will have the opportunity to leverage this importan annual event through a series of opportunities: 
Utilize Waste Reduction Weekly to promote ongoing achievements or to make announcements.
Contribute to blog articles on topics that relate to their sphere of influence or specific market.
Engage with the Waste Reduction Week audience through coordinated webinars.
Leverage the branding to advance their own social media and communication campaigns
Countdown to Waste Reduction Week in Canada 2021
DOWNLOAD OUR 2021 PARTNERSHIP PACKAGE